Super Bowl XLIX is a classic NFL title game that will pit the Seattle Seahawks' ferocious, swarming defense against the New England Patriots' prolific, high-efficiency offensive attack.
While Deflategate may be dominating the headlines this week, this Super Bowl is about as juicy of a matchup as the NFL and its fans could imagine, with the defending champs facing the iconic legacy of Tom Brady and Bill Belichick.
Here are the statistics of which you definitely need to be made aware before you sit down, scoop some eccentric dip onto your tortilla chip and take everything in.
1. Incredible Super Bowl history
Super Bowl 49 will mark the first time in Super Bowl history that neither team has a first-round pick they drafted at one of the offensive skill positions (quarterback, running back, wide receiver, tight end). Every other Super Bowl since its inception in 1967 has included at least one first-round pick (drafted by a participating team) at the skill positions.
This Seahawks vs. Patriots matchup is also the first since Super Bowl XXXVIII, played on February 1, 2004 between the New England Patriots and Carolina Panthers, to not feature a first-round quarterback. However, Patriots tight end Daniel Graham, who was selected No. 22 overall by New England in the 2002 draft, caught four passes for 33 yards in that 2004 game.
Also, Rob Gronkowski is the only second-round pick at one of the offensive skill positions who will play in this Super Bowl (unless Jimmy Garoppolo plays. The Patriots don't want that).
Based on the history that will be made Sunday, it's staggering that these teams have been able to achieve such success in an era when offense clearly rules the league.
2. Quarterbacks under pressure
How quarterbacks perform under pressure usually separates the good from the bad, and the elite from the above-average.
Here's how Russell Wilson and Tom Brady stack up when they've been faced with pressure during the 2014 regular season and playoffs.
Brady and Wilson under pressure
Name
Drop Backs
Hit as Thrown
TDs
INTs
Pressure %
Sack %
Completion %
Accuracy %
Russell Wilson
273
3
5
4
44.9
17.2
46.1
66.7
Tom Brady
197
11
4
7
28
11.7
45
61.6
The first thing that pops out from that chart is the huge disparity in pressure percentage. In fact, no quarterback has a higher pressure percentage than the Seahawks quarterback.
Wilson is certainly much more of an athletic improviser than Brady, but Seattle's offensive line isn't nearly as sturdy as New England's front is.
While Wilson's Accuracy Percentage (AP) is slightly better than Brady's, and he boasts a positive TD-to-INT ratio, the top-level signal-callers have almost identical completion percentages under pressure.
Wilson's Accuracy Percentage of 66.7 ranks eighth out of 37 quarterbacks who took at least 25 percent of their team's snaps this season, while Brady's 61.6 AP ranks 15th.
3. Team pass rush
After examining how well Brady and Wilson fare under duress, it's logical to see how often each team's pass rush has gotten after the quarterback in 2014 and during the postseason.
To most, the Seahawks are the club in this Super Bowl with the more dangerous pass rush. While that's technically true, the Patriots aren't that far behind.
Pass rush comparison
Team
Pressures
Drop Backs Faced
Pressure %
Patriots Pass Rush
250
710
35.20%
Patriots Pass Rush
238
639
37.24%
(Pressures are sacks, hits or hurries on a quarterback, per Pro Football Focus.) Michael Bennett and Cliff Avril are established, well-known defensive linemen, but Rob Ninkovich and Chandler Jones fly under almost everyone's radar outside of New England.
The pressure percentages are comparable, yet New England hasn't registered a sack in the playoffs, and the Seahawks defense has three in two games.
The trench battles, especially on the edges, will almost assuredly have a major impact on the outcome of Super Bowl XLIX.
4. Top cornerbacks
Chris Harris Jr. and Vontae Davis had outstanding seasons at cornerback, but Darrelle Revis and Richard Sherman have been mainstays atop everyone's cornerback rankings for years now.
Here are the figures (counting the playoffs) for what Sherman and Revis have allowed this year. They're first and second in cover snaps per target and cover snaps per catch. They define the label "shutdown corner."
Comparing Sherman, Revis
Rank
Name
Targets
Catches< Allowed
Yards
TDs
INTs
QB Rating
Cover Snaps Per Target
Cover Snaps Per Catch
1
Richard Sherman
72
34
473
1
6
38.7
8.7
18.5
2
Darrelle Revis
84
43
579
3
3
70.5
8.1
15.9


Neither the Seahawks nor the Patriots have "conventional" No. 1 receivers on the outside for Sherman and Revis to cover, and because of that, Seattle would be smart to put Sherman on Rob Gronkowski for a few snaps when he's split out from the formation.
Also, the length and physical nature of Sherman and Revis vs. the small but super quick wideouts like Danny Amendola, Doug Baldwin and Julian Edelman will be extremely interesting due to contrast in size and playing style.
5. Rugged runners
Marshawn Lynch is arguably the most famous back in football, and he's probably the most unique. He's also an underrated shifty power runner who rarely goes down on first contact.
However, the lesser known LeGarrette Blount, who's been shipped around the league and in and out of the Patriots' starting lineup this year, is surprisingly just as rugged and agile with the football in his hands.
Comparing Lynch and Blount
Runner
Rushing Attempts
Catches
Yards After Contact Per Rush
Missed Tackles Forced On Runs
Missed Tackles Forced On Catches
Marshawn Lynch
319
41
3.11
109
13
LeGarrette Blount
93
4
3.17
18
1
New England's big back is aided by a relatively small sample size here, but his 3.17 yards after contact per rush average is the highest in the NFL among all runners with at least 55 touches.
Both squads don't shy away from featuring their running games, and during a time in which speedy, "HR-hitting" backs are becoming the most prevalent in pro football, these bruisers have definitely shown their worth and are exceptionally difficult to bring to the turf.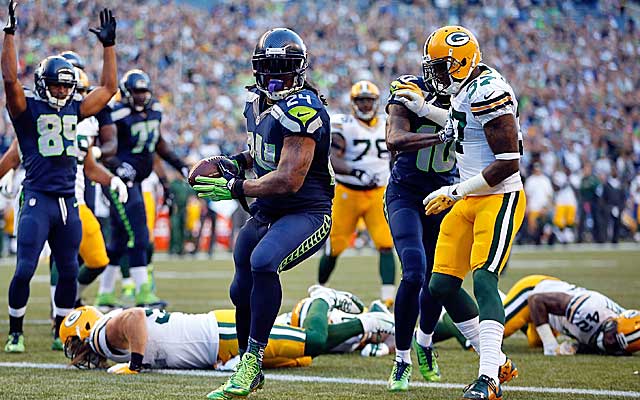 Prediction: Seahawks 24 Patriots 20
The Seahawks defense has played amazingly well after linebacker Bobby Wagner returned from a turf toe injury in Week 12. They have the size and aggressiveness to at least limit Rob Gronkowski with a mix of K.J. Wright and Kam Chancellor (and maybe Richard Sherman) in coverage. While I think Tom Brady will be effective in the short passing game, with Gronkowski not a major factor, New England will not to be able to routinely sustain long scoring drives.
Russell Wilson won't have a monster game throwing into the Patriots' strong secondary, but he'll make a handful of plays with his feet, and Marshawn Lynch will do enough on the ground to lead Seattle to a second-straight Super Bowl victory. Don't underestimate the ball skills of Doug Baldwin and Jermaine Kearse and the athleticism of tight end Luke Willson either. New England struggles against opposing tight ends.